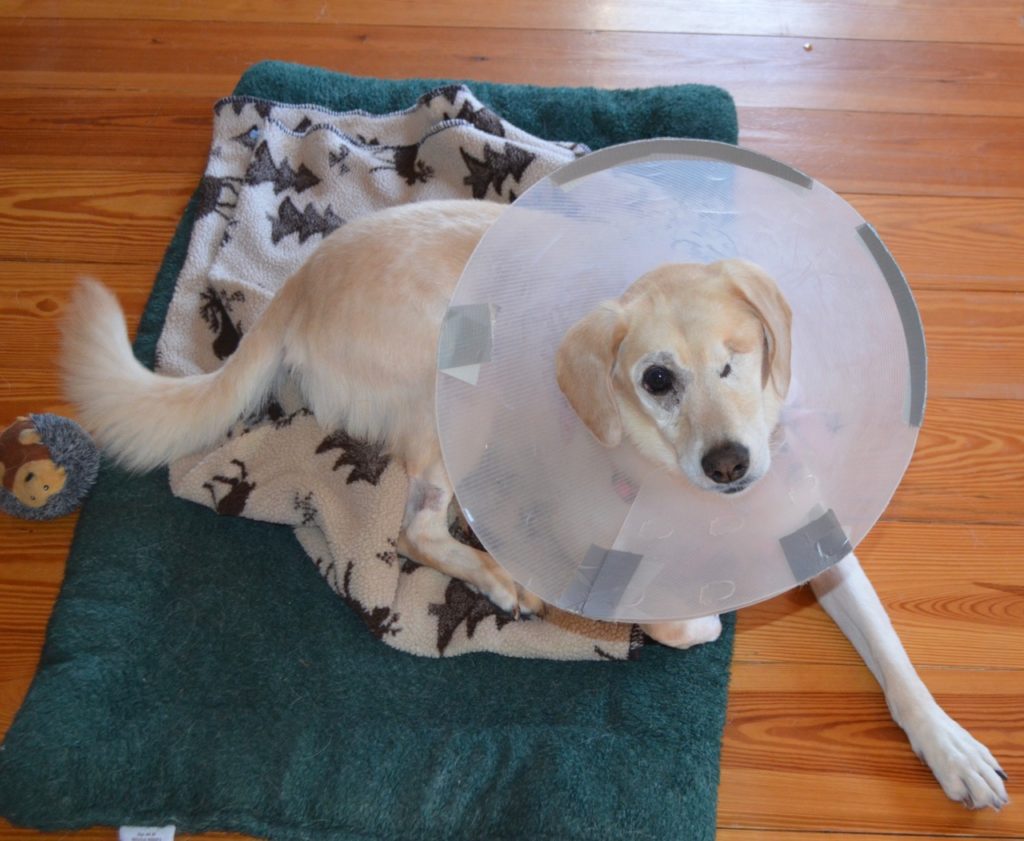 First, the good news to start the week off with.
Blind Millie had her eye surgery last Tuesday, which was a pretty complicated deal. Our veterinary ophthalmologist at Peak in Burlington, Dr. Sarah Hoy, opened up Millie's cornea, removed herluxated (displaced) lens, then performed endolaser surgery to destroy part of the cilliary body in the eye that produces the internal fluid (to avoid glaucoma, which can be a potential side-effect of this kind of lens replacement). Then she sutured into place a new synthetic lens, and finally closed up the cornea. (The suture material Dr. Hoy uses is thinner than a human hair and barely visible to the naked eye!)
When I got Millie to the clinic early Tuesday morning, her eye pressure had suddenly spiked to 31, which is in glaucoma territory. Her pressure had been normal before, though at the high end of normal. We don't know what caused the spike, but it meant one thing: If we didn't do the surgery, Millie would definitely develop glaucoma, and we'd never get a chance to restore her vision. So we proceeded with the surgery, and Millie came through it just fine.
She spent the week at the clinic because this procedure requires careful, round-the-clock monitoring for pressure spikes. As it turned out, Millie's eye pressure dropped too low at some points during the week, meaning the ophtho team had to keep adjusting the glaucoma meds she was getting. Intraocular pressure that is too low is also a problem, because that pressure (created by the fluid in the eye) is what keeps the eyeball inflated and is what holds the retina in place against the back of the eye. So it's a balance — that normal range — that is so crucial. But by the end of the week her pressures were normal, and I was able to bring her home on Friday afternoon.
Since we have a Tono-Pen here, I was able to test her eye pressure over the weekend, and thus far it has remained in the normal range.
Millie is having difficulty navigating around, and Dr. Hoy explained to me that there is still inflammation and some blood in the eye from the surgery, and it will take a couple of weeks for all that to clear up and before we will know how successful the surgery was. This isn't like regular cataract surgery, where the cloudy material is sucked out of the lens and the eye is immediately clear and visual again. This is a much more gradual process.
For the moment, though, we are cautiously optimistic. I will be taking her back later this week for a recheck. We continue to give her multiple eye medications throughout the day. So far … so good!
—
In less than good news, we found out my beloved Darla now has kidney disease. You may recall that she's had four mast cell cancer surgeries, her spleen removed, and knee surgery, all this following her initial cataract surgery when she first arrived. But in the past several months we've also been managing a rare chronic liver problem called copper storage disease, which requires several medications and a special diet. Last Tuesday we finally got her liver enzymes, ALT, down to a comfortable range … only to find her kidney values had shot up on the same blood work! She now has only 25% of her kidney function left. On Friday, when I went to pick up Millie, I took Darla back in for an ultrasound of her abdominal organs, which looked good, thank heavens. We also did a urine test and are waiting for the results of that. But this is an entirely new problem we are going to have to treat.
—
And in the worst news … we lost little Aurora last night. She's'the fourth dog we've lost in five weeks, so we are kind of reeling from all this.
Aurora passed away while sleeping. When I walked into the dog room this morning, I first thought she was asleep — she was lying on her side in her crate, very peaceful looking, her blanket as smooth as it was when we put her to bed yesterday evening. There had been no struggle, no paddling with her feet, no slumping over. It was clear her heart had just stopped while she was asleep.
You may remember Aurora had a very rare kidney disease called protein-losing nephropathy, which is a difficult and tricky thing to manage. Usually it results in death pretty quickly. But thanks to our internal medicine specialist at Peak, Dr. Marielle Goossens, who didn't give up and found the right combination of medications and dosages, we were able to keep Aurora healthy and stable for over two years. With multiple injections of heparin (to prevent blood clotting) and other oral medications every day, Aurora did remarkably well all this time.
For nearly?a year I drove her to Burlington for weekly tests to check her blood work and clotting function, which required specialized tests at Cornell, and Dr. Goossens used those results to adjust and taper the medications. Eventually we were able to get to monthly trips, then every couple of months. Her last round of tests was just a month ago, and everything looked good.
We don't know how old Aurora?was — she was already a senior when she came to us in early 2013. With her protein-losing nephropathy, she defied the odds for a long time. We?were just grateful we had her as long as we did.