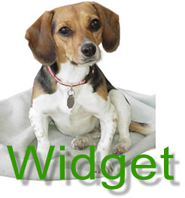 She was the first dog we flew in from out-of-state. It was back in 2002, and we were nervous wrecks about flying a dog from upstate New York to Montana. She, on the other hand, wasn't nervous at all. When we opened the crate door in the Missoula airport, a little blind Beagle/Dachshund mix came marching out. She led us across the lobby floor, tail up, brimming with take-charge confidence. From that moment on, Widget has been let's be honest here the boss of us.
She was the cover girl? on our very first newsletter, and the mascot for our first capital fundraising campaign in 2004 to construct a dog building named what else? Widget's House.
Along the way she has delighted and entertained us with her playful and comic antics. She's very vocal and an expert at using loud woo-woo-woo's to get what she wants. (Yes, woo's and not woof's like howling and baying mixed together, but delivered with an opera star's theatrical flair.)
Images open in a pop-up window.
Widget is also an insistent character, particularly when it comes to sharing our meals with her. She's been known to brazenly help herself to our plates when we?re not looking. And if not supervised, she?ll gladly take over another dog's food dish. (It doesn't matter if they're four times her size.)
We've told people that Widget doesn't believe blindness is a problem for her. She's convinced her real disability is being a Beagle trapped in a Dachshund body. She has the perfect tri-color Beagle markings and a true Beagle personality, but it comes in Dachshund packaging. Now that, she says, is a problem.
She's also taken it upon herself to train the other blind Beagles when she doesn't think they're sufficiently Beagle enough. One thing she can't stand is a shy, retiring Beagle. So she leads by
example brash and bold.
As for us well, she sees us as ever-helpful servants in her own manor house. Whatever services we provide whether it's chauffeur, doorman, dining, housekeeping, or grounds maintenance she is quick to express her appreciation with a lick of her tongue. But should we fall short, she's quick to let us know with another woo-woo-woo. As in, Waiter, there clearly wasn't enough food in my dish!?