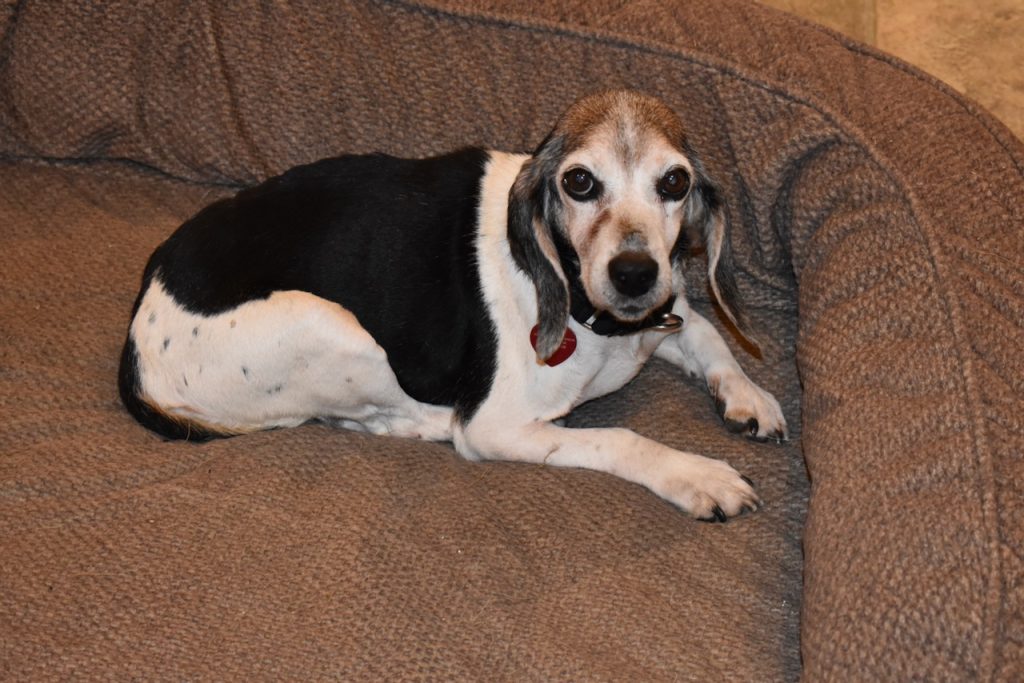 This adorable elderly girl was part of the Beagle contingent that arrived in mid-September. We had already agreed to take two Beagle brothers from Georgia, both of whom have glaucoma, when the rescue group we were working with found out about Sally. She had just turned up in a neighboring county's animal control shelter.
Sally had been found wandering as a stray. She was very old, emaciated, and had a neurological condition that caused her to wobble when she walked, sometimes falling over. She was heart worm positive, too. Her chances of adoption were close to zero. The rescue group asked if we could take her, too. We said yes.
When she arrived on that Sunday morning in September, we noticed right away she also had a problem in her right eye … it seemed painful, and she had constant discharge. Not only that, her mouth was a disaster. It smelled awful. This poor dog may never have had a dental in her life.
Sally had a habit of dropping to her belly and almost crawling on the ground whenever she approached us, particularly me. This seemed like fear-induced behavior from her past. We subsequently found out on X-rays that she has a broken rib, so she may have been hit or kicked in her previous life, which would help explain why she cowers when she gets close to us.
I had already scheduled a veterinary ophthalmology appointment in Burlington for the two Beagle boys with glaucoma for the week they arrived. Our ophthalmologist graciously agreed to squeeze Sally into the appointment to determine what was going on in her eye. It turns out Sally had an abscess in her cornea, which was just about to erupt into a melting corneal ulcer. Our ophthalmologist said, "She got to you just in time."
So for several weeks now we've been treating that eye successfully with eye drops and ointments. (The previous chronic discharge, plus the daily rounds of eye meds, is why she has that brown streak on her right cheek.)
Next came a full-scale work up with our veterinary internal medicine specialist for an abdominal ultrasound, echocardiogram of her heart, blood work, and X-rays. Her heart worm infestation was so bad that our internist could see the worms wriggling in her heart on the echocardiogram.
Her heart is so compromised right now that Sally can't go under anesthesia for any procedures — it is simply too risky.
We immediately began the heart worm pre-treatment with doxycycline for a month, and just last week our internist gave Sally the first of three immiticide injections to kill the worms. She will get the next two injections over the course of two days a month from now. She will be hospitalized during that time for close observation.
Our veterinary neurologist in Burlington also examined Sally and could not determine what her underlying condition is without doing an MRI, but that will have to wait until she can go under anesthesia.
Last week the veterinary dentist at our specialty hospital also examined Sally and was horrified by the condition of her mouth. She has multiple gum ulcers, loose and rotting teeth, and overall terrible inflammation. He determined that her mouth was causing her so much pain that he felt it was a quality of life issue, and he wanted to do a dental immediately. But again, because of her heart, it would be too dangerous.
We do have her dental now scheduled, but not until early January when she is a month past her final heart worm treatment and our internist has conducted another echocardiogram.
For a little old Beagle from the south who apparently has never had any veterinary care in her life, she now has an entire medical team looking after her:  internal medicine specialist, ophthalmologist, neurologist, and dentist.
Okay, so if that all sounds rather sad … and it is … the amazing thing is that Sally is a bundle of happiness, joy, and energy. Despite her difficulty walking, she is incredibly fast, and loves nothing more than to go cruising in the yard:
We are always surprised at how quickly she can get around. If she falls down, she just picks herself up and gets going again. She is not so unstable that she needs a wheelchair. In fact I think she would feel terribly constrained being confined to a wheelchair. She may wobble a lot, but mobile she is!
Being a Beagle, she has a great — shall we say "ferocious"? — appetite. We've been feeding her (carefully) as much as she can eat. For a wobbly little thing, she will gladly push any of our 50-pound dogs away from their food bowls if we don't keep an eye on her. Yes, she's that bold! This is why we usually have to feed her in a crate by herself in our sun porch.
We were so upset to see how thin and bony she was when she arrived, but she's picked up a lot of weight since then. She is now in much better body condition.
Fortunately, we feed a home-prepared soft food diet to our gang here, so eating is easy for her mouth.
Sally is a funny girl who has earned the nickname "Silly Sally." She's just kind of goofy, and her antics make us laugh. She also can melt our hearts with an endearing look from that beautiful face of hers.
She is very social and loves her new friends. Here she is sleeping on top of blind Honey:
Here's Sally on the left with one of our other new Beagles, deaf Georgia in the middle, and Honey on the right:
Because we have no prior history on her, we don't know how old Sally actually is. When we took her to our primary care veterinary clinic for an initial wellness exam after arriving, we asked our vet how old she thought Sally was. She said, "20!," only half joking.
We do know, just based on her condition and behavior, that her prior life must have been very rough indeed. But she is now safe, and loved, and getting the best veterinary care available to any dog anywhere. We may not have her for very long, but we adore this little old girl and we will be doing everything we can for her.
Sally just wants to know one thing, though: "When's dinner?"