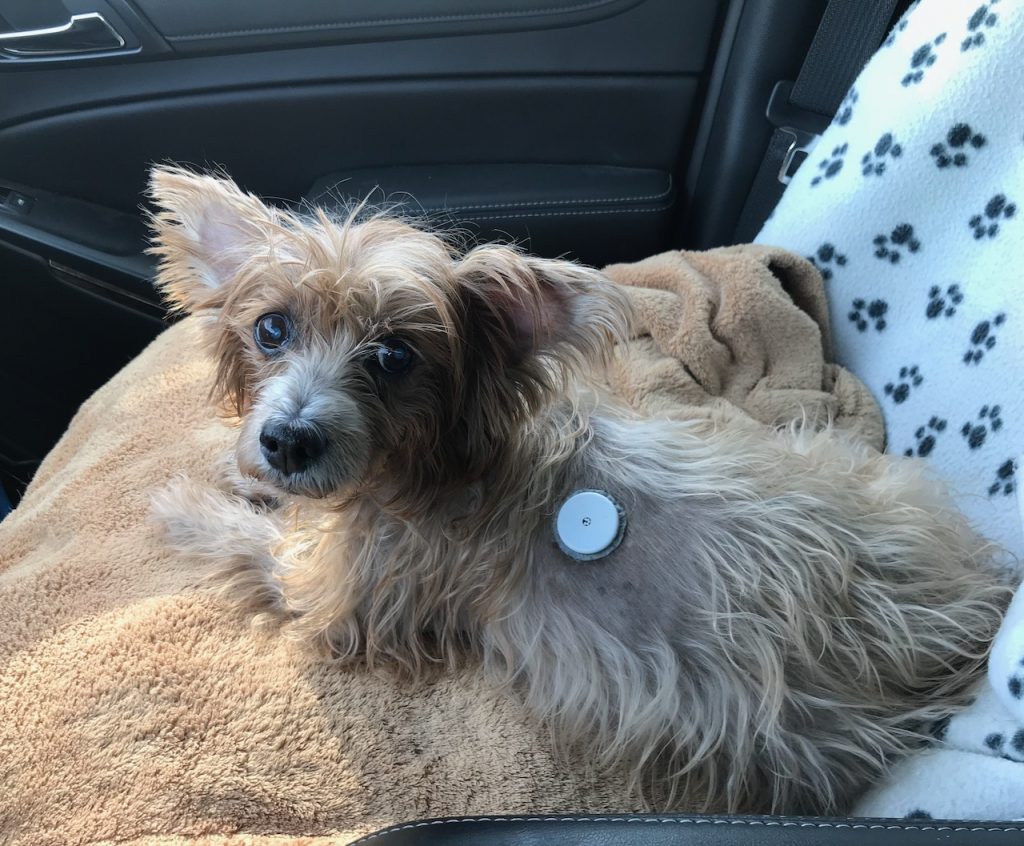 That's blind and diabetic Dolly, who arrived a few months ago. She's now on an insulin therapy that is used commonly in people, but not dogs. Once we switched her over, the results were dramatic. That's what I want to explain here, because I'm hoping other owners of poorly regulated diabetic dogs may benefit from trying this approach.
I took the photo one afternoon while we were waiting outside the pharmacy to get a new insulin prescription filled. You may recall from that first blog post that we had put a continuous glucose monitor (CGM), a FreeStyle Libre, on her just a few days after arrival so we could track her glucose levels. (It's the white sensor attached to her side in the photo.) As you could see from the CGM charts in that post, she wasn't well regulated at all. She had been on an intermediate-acting insulin called Novolin NPH, a very common insulin used in both people and dogs. In Dolly, it simply wore off too fast, which meant her glucose levels remained too high for too long.
We took her to see our veterinary internal medicine specialist at Peak Veterinary Referral Center in Burlington for a complete exam, ultrasound, blood work, and a review of the CGM data we had collected on Dolly. Working under the direction of the internist, we began adjusting Dolly's dosage of the Novolin NPH, but made little progress. It was frustrating to see charts like this:
She wasn't even coming close to normal range, which is the area between the two green lines.
Here's a more granular look at her average glucose over the same period:
The FreeStyle Libre sensor only went up to 500 mg/dL, so averaging 403 was ridiculously high.  Normal range is between 70 and 180.
The amount of time she was in normal range was less than 1%, as this chart shows:
So after tweaking the dosage and getting nowhere, our internist suggested trying a long-acting insulin called Lantus. That's the insulin prescription Dolly and I were waiting on when I took the photo at the top of the post.
Theoretically, if the Novolin NPH was wearing off too fast, Dolly should be more responsive to a long-acting insulin like Lantus. But that's not what happened at all. She just stayed persistently hyperglycemic on Lantus:
After several days like that, we consulted with our internist and switched Dolly back to Novolin as a stop-gap until we could figure out another plan.
What About Basal/Bolus Insulin Therapy?
During one of our consultations on Dolly with our internist, I had asked why we don't use the basal/bolus insulin therapy (BBIT) in dogs, the way human diabetics do. That is, they will use a long-acting insulin to cover their base needs throughout the day (the "basal"), and then give themselves a shorter-acting insulin to cover the glucose impact of meals (the "bolus"). This is a standard approach to managing diabetes in people. With dogs, we just give one injection of insulin twice a day, with each meal, and that insulin is typically one of the intermediate-acting types like Novolin NPH or Vetsulin.
Our internist told me that a) the basal/bolus approach is just not used in dogs and b) veterinarians have a hard enough time getting pet owners to give two shots (morning and evening with meals) every day, let alone the four shots necessary to implement a basal/bolus insulin therapy.
A few years ago we had taken two of our other poorly regulated diabetic dogs to see specialists at Tufts, and I had asked those clinicians the same question. I got the same answer.
This frustrated me, because it just seemed that veterinary medicine should be open to trying any and all approaches to managing canine diabetes. And we shouldn't assume that all pet owners are reluctant to give shots.
Where's The Research?
But, the understandable showstopper for any veterinarian who wanted to even try something totally different was the lack of any veterinary research to prove that such an approach would work in dogs.
At the time we were seeing the Tufts clinicians, I had searched for this kind of research but couldn't find anything.
After that conversation with our internist in March about Dolly, I came home from Burlington, got on the computer that evening, and searched again. This time, finally, there was the first published research on a trial using the basal/bolus insulin therapy in dogs! The study was conducted at the University of Pennsylvania and published in the American Journal of Veterinary Research in February 2020. It's now open access and is available here.
It took me hours of searching to find it, because the title of the paper was almost inscrutable:
"Effects of treatment with lispro and neutral protamine Hagedorn insulins on serum fructosamine and postprandial blood glucose concentrations in dogs with clinically well-controlled diabetes mellitus and postprandial hyperglycemia."
Yes, that's the ponderous title of this ground-breaking research paper. Any veterinarian could be forgiven for not realizing how important this diabetes study was. How about:  "Basal/bolus insulin therapy: a new approach to managing canine diabetes"?
In any case, it was a small study with just six client-owned dogs, but the results were conclusive:
"Overall, results of this preliminary investigation of the use of NPH insulin, lispro insulin, and a designated diet for treatment of dogs with clinically well-regulated diabetes mellitus showed that a BBIT protocol is feasible for dogs and supported that BBIT results in better control of PPH than NPH insulin administration alone."
The researchers noted that to the best of their knowledge, this was the first such study investigating the use of BBIT in dogs, and they called for further research.
Applying It To Dolly
I sent the study to our internist and asked if she was comfortable trying this in approach in Dolly, since nothing else we tried seem to make a difference in her.
Our internist read the paper and noticed the researchers were using NPH (i.e., like the Novolin that Dolly was on) as the "basal" or longer-acting insulin in the study. She knew this wouldn't work for Dolly because of how quickly it wore off in her. So our internist developed a Dolly-specific BBIT approach using Lantus as the basal insulin and Novolin NPH as the bolus insulin. She told me, "If you're willing to try this with Dolly, I'm comfortable doing it."
The results blew us away. Remember that neither Lantus or Novolin NPH had really worked well in Dolly by themselves. Together, they were a powerful team.
It took a couple of weeks to tweak the dosage of each insulin, but here's the change we started to see:
After our internist adjusted the dosing further, Dolly got even better over the full two week period:
The black line is the average of the daily patterns over two weeks, while the blue shaded areas show the extremes that occurred over that time span. Just compare this to the daily patterns chart at the top of this post.
Her average glucose over that period was almost in normal range, with many times during the day she was well within normal range:
Her time in target was nearly 50%:
The only challenge we've had is that Dolly can sometimes run low, usually in the early morning prior to breakfast, though we've never had a true hypoglycemic event (one time her blood sugar was very low but her clinical signs, activity and energy level were all normal). But this is something we will continue to monitor closely until we have a longer track record with her using this therapeutic approach.
Here's a 24-hour chart from May 28, showing the kind of amazing run of normal glucose we can have with Dolly these days … this is not every day, by any means, and there are still days when she can stay in the 300's for no apparent reason … but it shows you the potential for exceptional glucose control. I mean, over a 24-hour period she was in normal range 90% of the time, with an average glucose that's totally normal. Until we tried this basal/bolus insulin therapy, we had never seen anything like this in any of our diabetic dogs:
This basal/bolus insulin therapy is not a silver bullet, and I don't want to oversell it.
Right now, the only body of knowledge on this approach is the six dogs in the University of Pennsylvania study and our own Dolly, as far as we know. Yet it made an enormous difference for Dolly, at a point when we were beginning to despair.
But as our internist knows, we can be exasperated on those days when Dolly's glucose is persistently high, and there was no change in her routine (exercise, diet, treats, excitement, etc.) to explain it. In the past few weeks her average glucose has been trending up for reasons that aren't clear. We had been treating her for a bad ear infection, and infections can increase insulin resistance, so that may have been a contributing factor.
Here's her most recent daily patterns chart, and you can see how we've lost ground:
We may still need to adjust Dolly's dosage again to get back to where we were in April and most of May, but we've also learned it's important to let a diabetic dog's body "settle in" to a new insulin dose and see how it reacts over time.
Despite the daily averages recently trending higher, she still has stellar days like this past Tuesday:
(She turned back up shortly after I took that screenshot.)
Our internist keeps reminding me that hormones can behave unpredictably and cause changes in insulin resistance. She also points out — crucially — there is still so much we just don't understand about diabetes. Sometimes it's just random and there's no explaining it. So she reminds us to focus more on the patterns measured over time, and not worry too much about the daily ups-and-downs in glucose levels (unless, of course, we see hypoglycemia beginning to occur). The "noise" is the daily glucose gyrations, the "signal" is the pattern over time.
If a diabetic dog is already well-regulated using the standard therapy of one intermediate-acting insulin injection twice a day at meal times, then you may not want to change anything. (Though note that in the Penn study I linked to, those six dogs were already considered well-regulated and they still saw improvements in glycemic control.)
But if you have a dog who is struggling with her diabetes, then I certainly think it's worth sending the study to your veterinarian and asking him or her to consider this approach. It's another tool in the toolbox, and until now, one that we haven't been using with diabetic dogs.
Finally, In Other Good News
We're thrilled to report that our veterinary ophthalmologist has determined that Dolly is a candidate for cataract surgery, and it's scheduled for surgery a week from today!  So if all goes well, she should be able to see again for the first time in years!